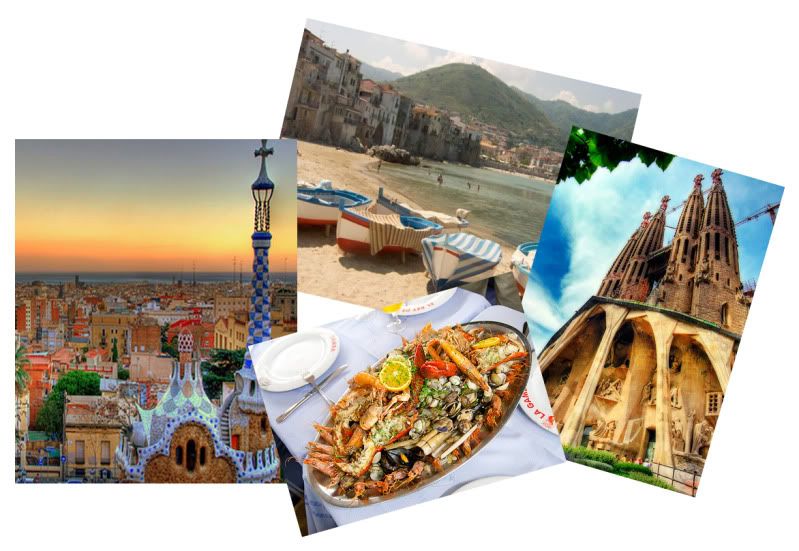 Any Spanish speakers out there? Don't quote me on this but I'm pretty sure I just said;
We're off to Barcelona and Sicily next month! Spain has been on "the list" for a while now, we found an awesome deal and snatched it up! As for Sicily - that's our mini "trip within a trip" because airfare from place to place once you're in Europe is too ridiculously cheap to pass up. I mean really cheap. I mean like 8 Euros cheap - that's like $11.87 right now (the Euro is down - woo hoo!) - from Barcelona to Sicily! That's like a 2 hour flight for twelve bucks! Can you imagine if it only cost that much to get from here in Seattle to San Francisco?! Or from Chicago to New York - a two hour flight for $11.87 - unheard of around these parts. I'd just get on an airplane and personally deliver your party package...and then stay for a cupcake.
Which brings me to the reason for this European brag-fest....for those of you who are thinking of ordering a package and will need it before March 10th - you have only a day or two to get it ordered. For everyone who's order I'm already working on - you're all fine. I've told you all separately when to expect your order and if I haven't - just ask me the next time we chat.
I will still obviously be taking orders for parties taking place after we return. The calendar for all of March and parts of April are booking up fast - so if you're thinking of ordering, get in touch - the sooner the better!
Adios for now...oh and PS - we can all thank Flickr for those photos I gathered. That plate of seafood looks so stinkin good I scoured photos until I could read the entire name of the restaurant printed on the plate. You can bet your bunnies we'll be eating at "El Rey De La Gamba"... I love the internet.